Our Form Manager tool is included in all of our website templates. Forms can be used for things like event registration, which allows you to collect information about the registrant, as well as have the registrant make a payment when applicable. Forms can also be used for volunteer sign-ups, prayer requests, mailing lists, contact forms, tuition payments, retreat registration, fundraisers, sponsorship purchases, more detailed donation pages, and much more! Forms provide you with complete customization, allowing you to collect the information and contributions that are most important to your organization. Select one of our pre-made templates to get started or build your own from scratch.
If you are working with an Elementor site rather than one of our Sidekick templates, please follow this link here for information on using forms within that system.
Accessing The Form Manager
While in your Website Editor, click on Form from the Feature option in your toolbar.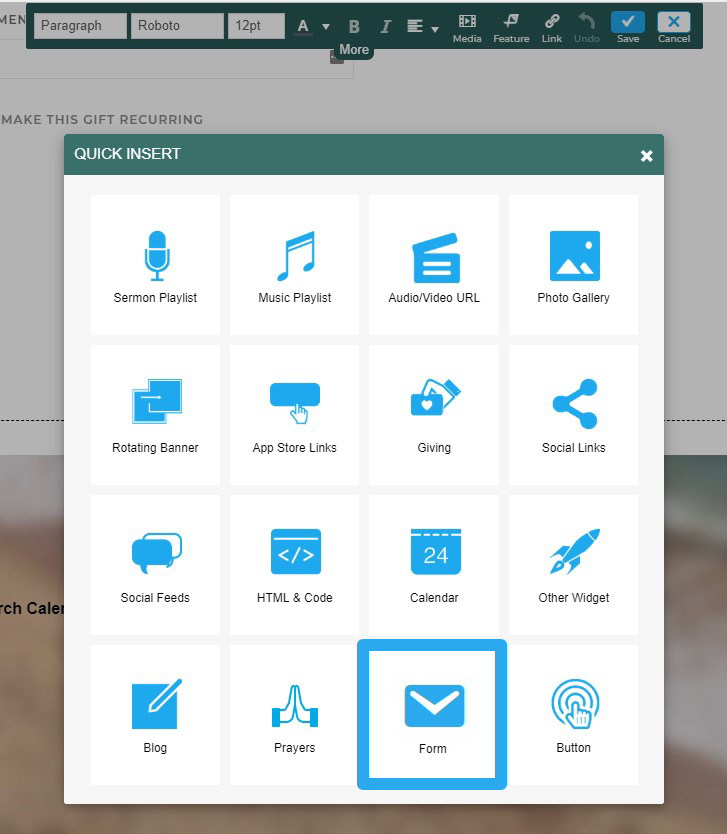 From here, you will have the option to either create a new form or insert an existing one. For help with building a new form, view our article here.
Benefits of Using Forms
Use forms so users can reach out to you, build customized donations pages, collect event registration info, and more! Include more information about the cause you're raising funds for and add images for a personal touch. Select a Theme for an added pop of color or dive into the Advanced Theme feature to create custom background and font color choices.
Enable Email Notifications!
Create Email Notifications that can be sent to multiple administrators after a form is submitted to keep track of what your members are interested in and what campaigns are gaining the most traction.
To learn more about how to set up Email Notifications within a Form, view our how-to article, here.
Updated